Post Office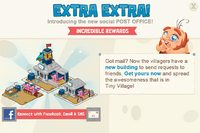 This allows players to send invitations to their friends to play Tiny Village via Facebook, email or SMS in order to promote the game. It gives
5 to each recipient when they install the game.
This Building is special:
Each village can only have one post office
Can be upgraded
Can send invitations to fellow friends in Facebook or by email or SMS
Can gain based on the invitations
The Decoration starts with Post Office 1 and as you gain
, you can upgrade to a higher standard of post office.
After sending an invitation, the recipient can install Tiny Village in their device by clicking the download link and then clicking the Collect gift link to receive
5.
Another Requirement is you must have at least Tiny Village Version 1.10.1
| | Size | Tax | Cost | Requires | Max | Build | XP Gain | Hurry Cost |
| --- | --- | --- | --- | --- | --- | --- | --- | --- |
| Post Office 1 | 4x4 | | 4200 | Level 4 | 1 | 7h | 125 | 28 |
| Post Office 2 | 4x4 | 175 and 175 / 8h | 5 | Upgrade from Post Office 1 and Level 4 | 1 | 5h | 175 | 20 |
| Post Office 3 | 4x4 | 250 and 250 / 8h | 7 | Upgrade from Post Office 2 and Level 4 | 1 | 5h | 250 | 20 |
| Post Office 4 | 4x4 | 350 and 350 / 8h | 10 | Upgrade from Post Office 3 and Level 4 | 1 | 7h | 350 | 28 |
How To Get Social Currency
Social Currency (
) can be earned by inviting your friends to play Tiny Village using Facebook or email or SMS. Currently your invited friends do not have to answer or download the game if they do not wish to. It is also earned when leveling up - see Level.
Steps to Invite using Post Office
1. Click the Post Office building when the building is NOT under construction or upgrade process.
2. It will open a new screen of expanded Information about the Post Office.
3. If the building is eligible to be upgraded, the Upgrade button will be green. Press it to Upgrade.
4. To gain more Social Currency, press the Invite Friends! button.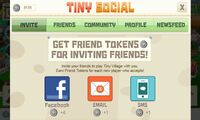 5. It will open a screen - the same as the Tiny Social screen - Invite tab.
a. Press Facebook to connect to your Facebook account.

If you have not connected the Profile with your Facebook account then it will ask permission to connect and input your Facebook user name and password.

b. It will open a Facebook Friend List. There is a maximum 50 People who can be invited because they are not registered in Tiny Village.

Uncheck the green checkbox to not invite the selected people
View More button will reload another 50 more people

INFO = Max Friend at each send Was 10 Now 50 so if you Invite 50 people, it means 200 .

c. Press Invite to show a Facebook message pop up.

d. Press Send in the upper right corner to verify that you wish to send invitations to the selected people.

INFO = 1 Friend Was 1 Now 4 so if you Invite 50 people, it means 200 .

e. After pressing Send, the will be added.

TIPS = Press Cancel in the last Dialog box and you will still receive without sending anything (this was fixed 3-August-2012 for iOS in version 1.13).

a. Press Email to open the default Email Editor in your gadget.

TIPS = You can press BACK button (in Android) to cancel emailing and you will still get 1 .

b. Type the recipient or the target email address you want to invite.

TIPS = Enter your own email. (Thanks to Wikia Contributor, see comment)

TIPS = you can enter any valid address even fake one because the already added

INFO = 1 email sent is 1 so you do not have to input more than 1 recipient.

c. Press Send to deliver the Email.

a. It should open the default SMS editor if the gadget supports SMS messaging (unconfirmed because in Android not opening anything).
b. It is assumed that the SMS should be open in the gadget and follow the same link like other method.
6. The screen will go back to Step 5.
1. Click the Up Arrow button in the bottom-right corner.
2. It will show up a list of shortcut buttons. Choose the Tiny Social button

3. It will open a screen that shows all 3 options of Invitations.
4. Follow the steps from Invite using Post Office started from Step 5
5. The screen will go back to the Tiny Social screen Invite tab page.
In
Version 1.11
, When achieving a success (for example by obtaining a higher
level
), you can also get Social Currency (
) by publishing the success directly from Tiny Village to Facebook (see picture below) and also get 100
.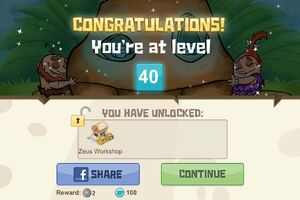 Accepting Invitations
At the moment only email is known.
Inside the message there will be link to TinyCo specific site and it will a open a new web browser window
The link from Facebook Invitation should be open in the gadget (assume the same with Email)

Open the Facebook App or Facebook website from the gadget.
Open the invitation message
Click the link, and it will open with your default browser.
The same with Accept Invitation by email step 3

Open the email from the default email application in the gadget
Click the link, and it will open with your default browser.
There will be a link to Install Tiny Village on Android or iPhone and also a link to Collect Gifts
Click the link Collect Gifts if you already have Tiny Village inside the gadget
It will automatically open Tiny Village game
There will be message "Congratulations! You get a free Gift and a Mystery Item in Inventory." (unconfirmed)
You get 5 (see trivia below)

Unknown (on Version 1.10.1, update already include permission to use SMS service, but this features seem have not complete)
How to Spend Social Currency
You can spend your earned social currency by using it to upgrade your Post Office, and starting 17 May 2012, you can also use it to purchase items from the village shop/build menu.
Decorations
| | Size | Tax | Cost | Requires | Max | Build | XP Gain | Hurry Cost |
| --- | --- | --- | --- | --- | --- | --- | --- | --- |
| Park Bench | 3x3 | 150 / 6h | 10 | Level 6 | 5 | 2h | 0 | 12 |
| Dino Painter | 3x3 | 250 / 6h | 15 | Level 10 | 5 | 8h | 0 | 48 |
| Berry Patch | 4x4 | 350 / 5h | 25 | Level 16 | 5 | 10h | 0 | 60 |
Stores
Store
Costs
Size
Build Time
House Slots
Requires
Max
Notes
XP Gain
Item Name (Time/Resource/Coins/XP)
Hurry Cost

25

4x4
8h
0
Level 6
~
Coins and XP from Resources ()
775

| | | | | |
| --- | --- | --- | --- | --- |
| Coffee | 15m | 32 | 72 | 205 |
| Scone | 1h 30m | 71 | 195 | 725 |
| Expresso | 8h | 170 | 525 | 1650 |

48
Trivia
When Receiving the 5 from accepting Invitation, you could also get 1 Palm Trees or 1 Heart Rose Bush inside the Inventory (depending on type of operating system?, to be confirmed)
Attention: Tapping on the Post Office will break your chain (it will not start a chain either).
Tips and Tricks
Using invite system, you can send Invitation using email to your own gadget phone email and then open the link in the gadget email to get 5 for free for yourself.
This trick can be done when you have more than one email editor in Android (such as Gmail and Yahoo). When using Email as the Invite method, pressing EMAIL icon multiple times will make the android open a dialog box to choose the email app for multiple times also. When you press Back multiple times to cancel the dialog box, actually you already gain many
When using Facebook as the Invite method, the same with previous Email method, pressing Cancel in the last Dialog box to send to Facebook will also give without sending anything.
In Version 1.11, Storage no longer hold Social Currency / Social Resource. Social Currency amount can also be view from the Storage and slide up the resource to view the 8th resource. The maximum amount is small so its easily max out when using the tips and tricks method and when the storage is max out, it will shows a max out icon (!)
Social Currency can also be called Friend Tokens.
External Link
Ad blocker interference detected!
Wikia is a free-to-use site that makes money from advertising. We have a modified experience for viewers using ad blockers

Wikia is not accessible if you've made further modifications. Remove the custom ad blocker rule(s) and the page will load as expected.