Crystal Tree
| | |
| --- | --- |
| Cost | 249 |
| Size | 4x4 |
| Tax | 1 / 12h |
| Requires | Level 4 |
| Build Time | 24h |
| Max | 5 |
| XP Gain | 0 |
| Hurry Cost | 59 |
1st Phase
Who says you can't grow money on trees? The Crystal Tree is in bloom and Theodore wants one now! Get your for just 249 Crystals to start collecting free crystals today!
Limit 4 per Village and related with the event on Easter Theme.
Start = 7 April 2012
End = 10 April 2012 (Tue, 6 PM PST)
2nd Phase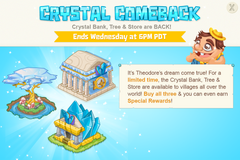 During Local Heroes Theme the Crystal Tree made a comeback together with the Crystal Bank and the Crystal Store. The three combined were part of the Crystal Trio Challenge.
Start = May 28, 2012
End = May 30, 2012 (6PM PDT)
Economy Analysis
Trivia
This decoration marks the second decoration that generates crystals as tax and has animated light particles.
External Link
Poll
Would you buy the Crystal Tree if it was offered as a limited producer?
Ad blocker interference detected!
Wikia is a free-to-use site that makes money from advertising. We have a modified experience for viewers using ad blockers

Wikia is not accessible if you've made further modifications. Remove the custom ad blocker rule(s) and the page will load as expected.