Crystal Father Time
| | |
| --- | --- |
| Cost | 299 |
| Size | 3x3 |
| Tax | |
| Requires | Level 4 |
| Build Time | 7h |
| Max | 4 |
| XP Gain | 0 |
| Hurry Cost | 10 |
Note: This decoration is animated.
Introduction
The Crystal Father Time decoration was introduced on 31 December 2013. It was on sale until 8 January 2014.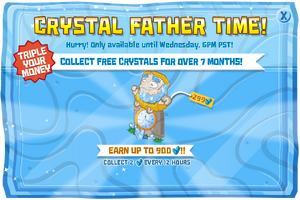 Generates crystals for a further July 31 2014 18:00:00 PST
Note : This timer counts down to July 31 2014 18:00:00 PST
Economic Analysis
Challenges
Shortly after its introduction, the following challenge appeared.
Requires
Task / Reward / Notes

Crystal Father Time



Requires Level > 4

1
Build 1 Crystal Father Time
2
Build another Crystal Father Time
30


400
Ad blocker interference detected!
Wikia is a free-to-use site that makes money from advertising. We have a modified experience for viewers using ad blockers

Wikia is not accessible if you've made further modifications. Remove the custom ad blocker rule(s) and the page will load as expected.