Market and Storage
To buy and sell Resources you need:
Why to buy or sell resources
Players at higher level have most of the time a limited number of quarries, choppers, pens, farms, carvers, mills and weavers. On the other hand to make
still
,

,
,

,

,
or

are needed. These are bought on the Market
There a limited reasons for selling resources, because a surplus is best used in a recipe of a Store that uses it.
How to buy or sell resources
1. Both for buying and selling Resources you tap on the Market
2. The 'Market' appears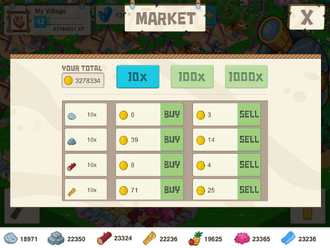 3. At the top of the 'Market' you will find your balance of

as well as three button to see prices per 10, 100 or 1000 resources. On the rows you first see
,
,

and

by scrolling down the data for
,

and

appear.

4. By tapping on the 'Buy' or 'Sell' button of the resources
,
,

,

,
,

, or

the number of items (10, 100 or 1000) is bought or sold.
5. The number of resources
,
,

,

,
,

, or

bought or sold is added or deducted to the stock at the bottom of the page, your balance of

is adjusted accordingly.

NOTE: The number of resources to be bought can not be more than the maximum capacity of the
Storage
.
A warning given (see picture to the right), but AHHH! you don't need to panic. You just can not buy any more of the resources
,
,

,

,
,

, or

concerned.
Ad blocker interference detected!
Wikia is a free-to-use site that makes money from advertising. We have a modified experience for viewers using ad blockers

Wikia is not accessible if you've made further modifications. Remove the custom ad blocker rule(s) and the page will load as expected.